Services
Our Hardscape Services Include:
Retaining and Sitting Walls using Natural or Manufactured Materials.
Walkways, Patios, Stairs, Driveways and Pool Surrounds made from Pavers, Travertine and Dimensional and Irregular Flagstone you choose the look.
Fireplaces and Fire pits from complete Outdoor Kitchens to Fire pits Kits.
Rock Gardens and Creekstone Design and Layout from Steps to Walls.
Landscape lighting, Water Feature Installation, Carpentry for Arbors, and Pergolas.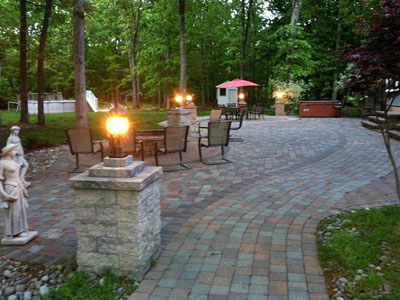 Hardscaping involves the design and construction of "hard" features such as patios, walkways, outdoor kitchens, fireplaces, etc. These features form the heart of your outdoor living spaces, and their design and function are as critical to the way your family lives outdoors as the layout of your home's interior.


Concrete Pavers, Driveways, Walks, and Patios
Designed to fit into the surrounding landscape and building style, patios can be crafted from natural stone, pavers, brick, or a combination of materials. Our experience and certified staff allows us to offer a wide range of concrete paver installations from start to finish. We take great measures to discuss the project with our customers so they are assured that the project of their choice will be a well-valued investment. Interlocking concrete pavers can be used in a variety of applications, such as driveways, patios, walks, steps and parking lots. Whether the site requires long term high vehicular paving or just pedestrian traffic paving, we can make it happen. Read More »


Retaining Walls and Sitting Walls
Our experience with fabricated interlocking concrete block has allowed us to become very competitive in the design and construction using our stone working techniques to build a wide range of free standing or retaining walls. Today's concrete technology takes the term "retaining wall" to a new dimension. These strong structures can help shape the land, guide people along a path, protect a garden, or add visual interest to an otherwise flat space. Read More »


Have a Seat on a Sitting Wall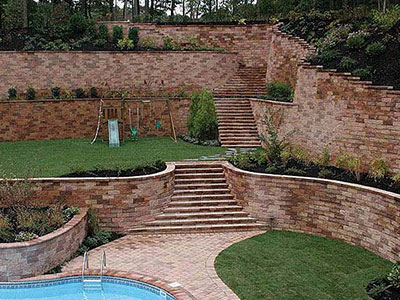 What's the best way to double the value of a retaining wall? Have Pave Masters design and install a seating wall. Seating walls, also called sitting walls or seat walls, are simply short walls designed for comfortable seating. They are often a design feature included in retaining walls adjacent to outdoor living spaces.


Things to remember about seating walls
Height: The average height of a sitting wall is 18″, but this can vary with your yard's specifications.

Width: To make a surface that's both safe and comfortable, the tops of seating walls are generally 12″ wide minimum but can vary by customer choice.

Materials: Seating walls can be constructed from many material options – block/cap (which is paver stone material), Bluestone, cultured stone, brick, or other natural stone sitting wall choices. If your sitting wall is constructed using paver stone materials, Pave Masters provides a Lifetime Warranty that is even transferable to a new homeowner.

Surface: At Pave Masters, we like to avoid capping a sitting wall with rough flagstone or other irregular surfacing that can be uncomfortable. We'll help you choose something that feels comfortable to sit on.

Value: A stone sitting wall is a desirable design feature that may increase the resale value of your home. It's also valuable for those off-season mild days when your outdoor furniture has been stored away.

Patio seating wall: If a retaining wall is necessary as part of your patio construction – due to grade – a seating wall will double the value of the space. It is relatively easy to construct a patio seating wall in conjunction with a retaining wall.

Fire pits: A sitting wall is a beautiful feature to add when installing a fire pit especially when the wall wraps around it. Pave Masters can construct solid or see thru sitting walls square or round customers choice.


Fireplaces and Fire Pits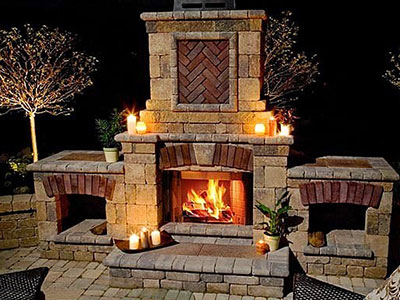 Whether you're looking to extend the summers in the Midwest or delay the onset of a cool evening, you can lengthen your time outdoors by turning up the heat. Outdoor fireplace installation and custom fire pits offer a cozy natural gathering place where your friends and family can spend some quality time around a flickering fire or where you can simply gaze at the flames in solitary meditation.

The Pave Masters team of hardscape designers are highly skilled at creating the right outdoor fireplace design to fit your specific needs. It can be built at the edge of your patio, can be situated near a water feature to provide a striking reflection off of water, or can be custom-designed to be the focal point in a separate "outdoor living space." Your outdoor fireplace can be made of cultured or natural stone, block and cap, brick veneer and can also have certain aesthetic features to enhance its beauty. If space or budget is a concern, a hardscape fire pit might be a nice choice. Utilizing many of the same material choices as an outdoor fireplace, fire pits can be built into a patio, and can offer a place to "ignite" a romantic night, roast marshmallows, or simply provide warmth and interest while entertaining year round.

At the end of the day, how simple or elaborate your outdoor fireplace design or fire pit is will be determined by your taste and budget. Contact Pave Masters today to "light up" your hardscape in the way you've always dreamed. Read More »


Fire Pit Designs by Pave Masters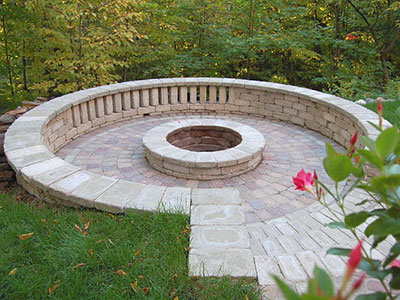 Wouldn't it be nice to increase the value of your home and improve the relaxation potential of your backyard? Fire pit installation does both. A fire pit custom-made to match the style of your environment offers a cozy romantic setting where friends and family can gather to roast marshmallows, pop popcorn or just peacefully gaze at the flames. A fire pit is more cost-effective than an outdoor fireplace, and is a desirable feature that has been shown to help the resale value of your property.

What exactly is a fire pit? It's simply a structure that contains and controls an exterior fire. Typically, a custom outdoor fire pit is one to two feet high, can be built in any shape desired, and is usually erected on a patio. Circular is the standard shape, but the options are endless – rectangular, square or any custom shape that fits with the environment. Many material options including block/cap (paver stone material), Bluestone, cultured stone, brick and other natural stone choices are available for you to choose from. And if you choose paver stone material, Pave Masters provides a Lifetime Warranty that's transferable to a new homeowner. Ultimately, your taste and budget will determine how simple or elaborate the patio fire pit design will be.


Natural Stonework, Veneer, and Aggregate Driveways, Rock Gardens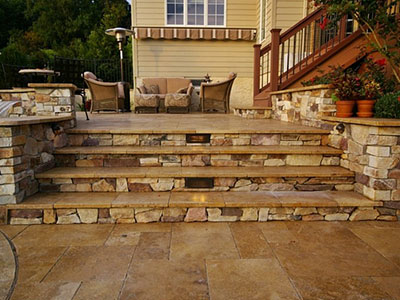 Our experience with natural stone allows us to provide a wide range of design features. While stone can be incorporated with plantings for a traditional garden setting, they can also be added to a site to create a focal point of interest. We offer a large selection of fieldstones, building stones and veneer products. With the use of natural stone we can add that special touch to a particular project to enhance the natural beauty that stonework provides.

For more information call us at 502-648-1554 or Contact Us


Our Landscape Services Include:
Design and Layout for Shrubs, Tress, Perennials and Annuals Installation.
Planting and Transplanting Trees, Shrubs, and Perennials.
Lawn Installation and Hydro Seeding.
Container Gardening and Color Displays.
Drainage Solutions.
Soil Analysis, Organic Fertilizers, and Soil Building Systems.

Depending on your landscape, different levels of maintenance are required to keep it looking its best and growing at its full potential. All too often, homeowners and property managers are left with a gorgeous landscape but without the proper knowledge of their plants or a specific landscape maintenance program to follow. As with most things in life, landscapes flourish when given the necessary attention.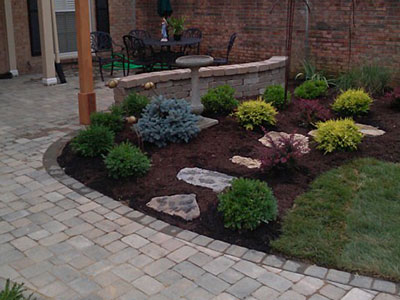 This area of landscaping can often be intimidating, and when neglected will become a huge undertaking. Whether planted by us or not, we can consult with you on the landscape maintenance requirements for your property and offer you a plan or service that will make the best use of your time and budget.

Our award-winning landscape construction services include the designing, building and installation of full property landscapes, tailored to your distinctive taste. We see landscape architecture as a form of art, so we carefully evaluate every aspect of the available space on your property to ensure a functional, welcoming environment. Do you prefer a secluded outdoor escape? A useful, family-friendly setting? Or an outdoor living space reminiscent of a vacation? Our skilled landscape designers will work with you to bring your vision to life with an extensive array of landscape design and installation ideas.

Drainage Solutions – For maximum drainage, we offer a variety of solutions that also work to minimize penetrating moisture and reduce damage caused by freezing conditions. To effectively protect your home, as well as the health and vitality of your lawn, landscape and hardscape, proper drainage and erosion solutions must be implemented. Drainage or water problems can drastically affect the resale value of your home. Over time, many neglected homes require costly repairs due to damage to foundation walls, flooding, basement leaks and other issues associated with foundation wall damage. In addition, many homes become a breeding ground for insects and mold. It is a known fact that many homeowners develop or struggle with allergies due to the development of mold and mold spore, which usually can only be detected after testing. Standing or pooling water can destroy your landscape and hardscape by causing your plants to develop root rot and or your hardscape to move from erosion. Poor drainage also elevates the risk of your lawn and plants developing a fungus or disease. If you're looking for backyard drainage solutions, contact Pave Masters.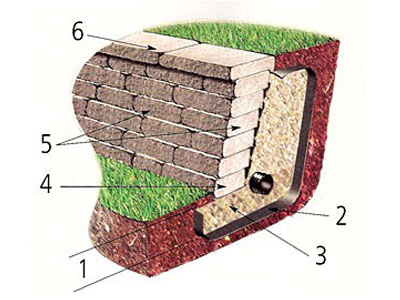 Since there are many different types of drainage solutions, our team will work with you to determine which application is best for your property. Our landscape drainage design team will gather detailed information, such as the elevations of your property and adjacent properties, the type of soil and compaction on site, as well as investigate gutter widths, grades off of foundation walls and the reasons for your current drainage or erosion problems. We will use this information to develop a cost-effective drainage or erosion solution to ensure that your outdoor living is safeguarded, while protecting one of your largest assets – your home!


Dry Wells
French Drains
Swales
Dry Stream Beds
Re-grading
Gutter and Leader Drain Evaluation
Drainage Piping
Trench Drains
Catch Basins
Plantings to Help with Erosion and Wet Areas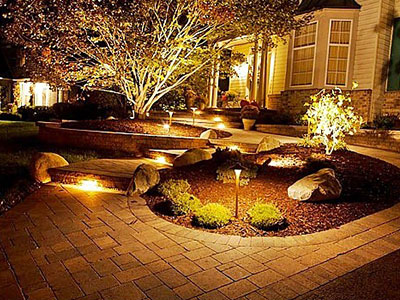 Light up your Hardscape | Landscape
Preserve the beauty of your home and outdoor living area as the sun sets with Pave Masters hardscape lighting packages. Pave Masters will work closely with you to achieve your desired lighting effects. We utilize the highest quality lighting fixtures and materials, which come with a warranty that is far superior to our competitors, to ensure a long-lasting and trouble-free lighting experience.

Professional hardscape lighting is that perfect touch to highlight your architectural features, enrich your garden beds, and provide a safe passage across walkways and driveways. Our professional hardscape lighting installation is sure to add a new dimension to your home that not only offers a warm and elegant welcome, but also ensures a safer, well-lit environment.


Important benefits of hardscape lighting
Security – Allows visibility and deters potential intruders
Safety – Properly lit walkways and stairs help to limit liability, while ensuring your safe passage
Usability – Prolong your outdoor entertaining by illuminating specified areas
Aesthetics – Complements a home's best features and is proven to increase resale value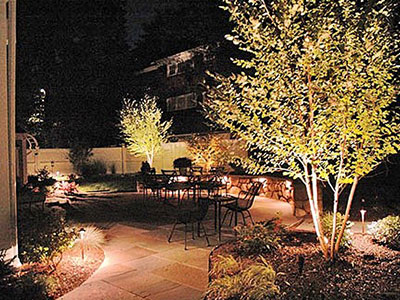 Our skilled hardscape lighting designers will work closely with you, considering a variety of low-voltage, sustainable options, including:


Area lighting
Well lighting
Hardscape lighting
LED lighting
Spot lighting
Shadowing and silhouetting
Security lighting
Path lighting, and more.
Water Features
Reinforce your connection with nature and stimulate your senses by adding an aquatic soundtrack to your Hardscape and landscape. Water feature designs add life, movement and sound to your environment like no other element can. Depending on the outdoor water feature, you can add excitement and drama or tranquility and serenity. Whether it's the energized gush of a waterfall, or a koi pond and moving stream along the edge of your garden, there are custom water features adaptable to every type of outdoor space.

At Pave Masters, we offer a variety of options when it comes to landscaping with water features.


Ecosystem Ponds
Small or large depending on your available space and budget

Include a balance of aeration, filtration, plants, fish (such as the beautifully colored Koi), rock and gravel. All components interact to keep the pond naturally balanced, thereby minimizing maintenance.


Pondless Water Feature Designs – Pondless Waterfalls
Provide the sights and sounds of running water without the maintenance and water depth of a pond.

You can choose the level of sound you desire. Pave Masters can custom design shelves of rock that are close together for a quieter, subtler sound or shelves that are farther apart for a deeper, more profuse sound.

Any outdoor water feature can be enhanced with low-voltage lighting to extend the beauty and enjoyment of your outdoor spaces long into the evening hours.


Benefits of Outside Water Features
Picture yourself surrounded by the peaceful, soothing sounds of water at the end of a stressful day. Fostering a feeling of profound tranquility, water feature designs can actually provide therapeutic effects such as lowered blood pressure and boosted mental health. They're the perfect backdrop for outdoor entertaining and can offer year-round enjoyment not limited solely to warm–weather months. Like the idea of wildlife? An ecosystem pond can attract songbirds, butterflies and frogs to add to the interest of the yard. And best yet, enhanced landscaping with outside water features allows your property to stand out from the rest, improving home value.


Design
When an outdoor space is inviting and functional, we enjoy it more. When we start each and every project, we take the time to understand how you would like to enjoy your space. What are your interests, preferred colors, favorite smells? Would grilling on a patio on an outdoor terrace be up your alley, or is manicuring boxwood hedges in the English garden more your cup of tea? Keeping your wish list in mind, we observe the existing landscape, natural surroundings, soil quality, and light patterns to create plans that are pleasant to your senses, your wallet, and your timeframe. Read More »


New Construction and Renovations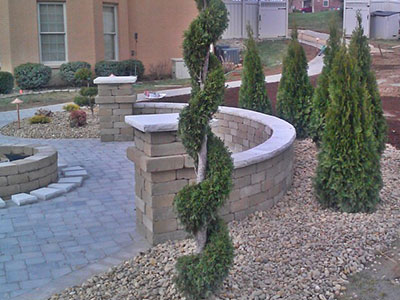 Pave Masters offers our customers a wide range of landscape & hardscape design options. The process starts with a visit to the site to meet with our clients and review the property. At this meeting we discuss their goals and ideas and determine the steps we'll take to create a beautiful and natural landscape setting.

All properties are different in some way, just like the people that own them. Some of our clients have children and therefore need more lawn space. Clients without children look to us to help them create more planting space, possibly in a traditional or formal setting. Other clients want us to help them make better use of their space in order to entertain or just to enjoy a quite summer night.

At Pave Masters we can provide residential and commercial clients with quality 3D in house landscape design options. We also work with local landscape architects and designers so that we can assure our clients that their ideas are carefully evaluated and constructed from start to finish.

Pave Masters has provided area customers with high quality craftsmanship and detail with all of our hardscape installations. Now more than ever people want to enhance their outdoor living space and bring the kitchen outside. We have the experience and dedication to help our clients design & install the living space of their dreams. Pave Masters specializes in residential patios, walks, walls, stairs, and outdoor kitchen installations. We have the resources to take care of any size project from start to finish.

For more information call us at 502-648-1554 or Contact Us


We Provide Services to the Following Cities and Towns in KY: